Custom Modelling & Finishing Service
---
Please Note: The information below is for the record only.
The custom modelling part of the business is now officially into retirement.
* * *
This is a photo of one of the static presentation models of the Las Vegas Monorail which we made for Bombardier Transportation. We were very pleased to have been selected to do this work for the company, a world leader in the design and manufacture of surface and air transportation equipment.

Bombardier had the full size car sets produced at its Kingston, Ontario plant and began delivering them to Las Vegas in 2003.
* * *
This is another model which we custom finished for Bombardier in June 2006, for presentation to the Prime Minister of Trinidad & Tobago.

* * *
This is another of the more popular models we have done.
***
Scratchbuilding, Kit Building and Bashing
We build kits, scratchbuild, crosskit or kitbash locomotives, rolling stock, structures and architectural models in all scales.
Quotes are specific to the work requested.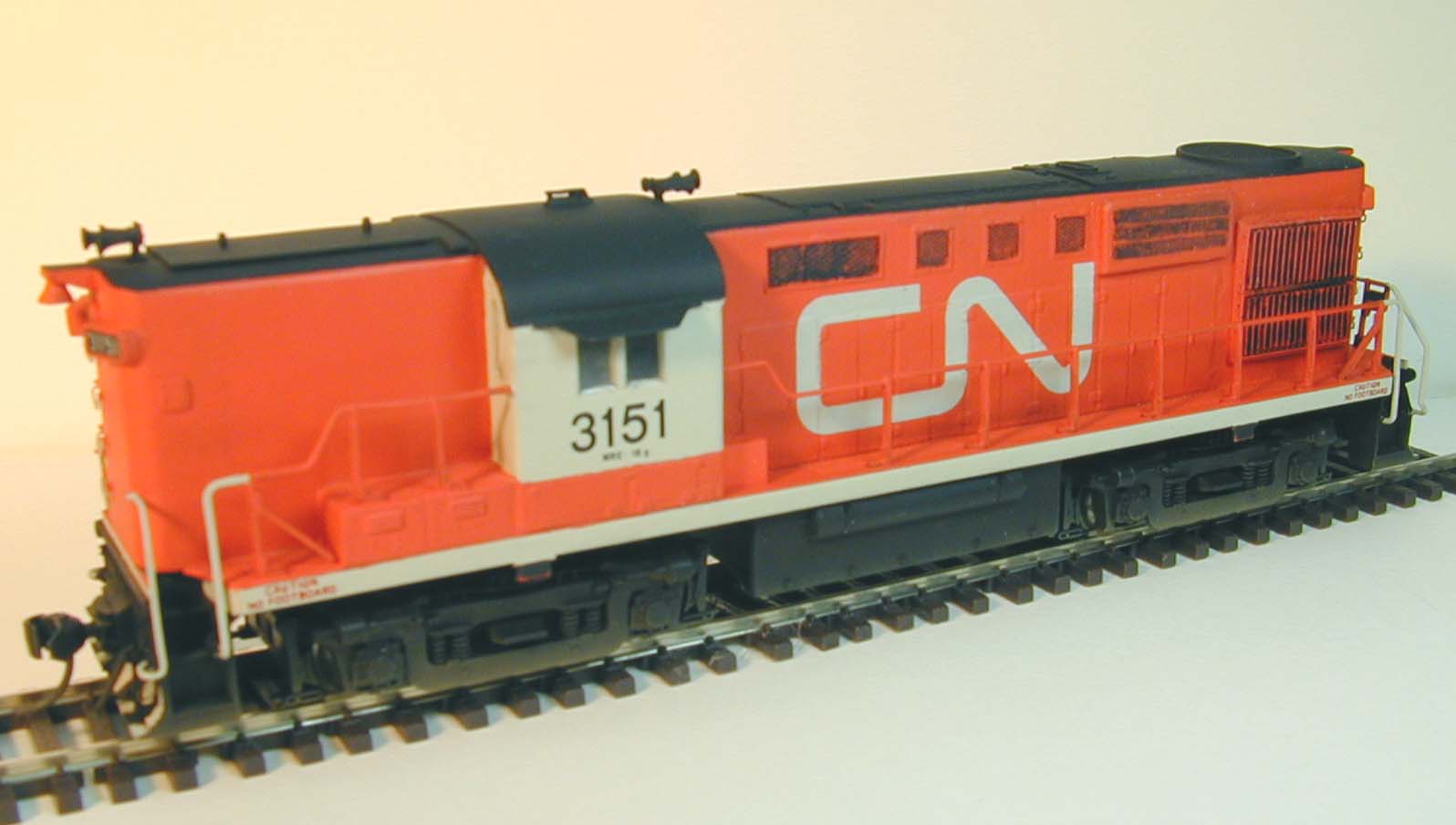 This CN Tempo RS18 was made for Dale Madison of Mentor, Ohio. The base was an Atlas RS11, on to which was grafted a set of epoxy superstructure castings made by a now long defunct compay along with a proper extension of the front end. Extra details include proper bells, horns, correctly shaped handrails, air & MU/signal hoses, cut bars, etc. Lettering is CDS.
Not one I am going to do again!

The Sanford Fleming began life as a Rivarossi sleeper which was reworked for Bill Haslett of Kingston. The model is not exact, but close enough to give Bill the flavour he wanted for his collection.
The work involved was completely redoing the observation end, cutting out and shaping the wider windows and the rear window, and fashioning the new peaked end with the large picture window and its framing. At least one of the side windows on the stock Rivarossi model was filled in to make a better representation of the side of the prototype. Housings were made for the red, green and white lights on the end, as well as other details such as the buffer beam, the speaker/siren fixtures and the stirrup steps. All the cast on grab irons were shaved off and replaced with scale size wire and NBW castings. There are even a couple of rear view mirrors installed. The unit was finished and lettered using the Microscale/CN SIG decal set.
***
Custom Model Painting and Finishing
This includes disassembly (as necessary), cleaning of superstructure(s) and frame(s), primer coat and finishing coat(s).
Sealing coat may be flat, satin or gloss as desired.
Lettering is CDS dry transfer or decals, whichever is most appropriate for a particular prototype.

Freight Cars: $100.00
Passenger Cars & Cabooses/Vans: $135.00; 3+ colours $160.00
Diesel Locomotives: $150.00; 3+ colours $200.00
Steam Locomotives: $250.00; 3+colours $300.00
For S or O scale, add 10%. For larger scales, add 15%.
***
< Note all prices on this website are in $Cdn. >
---
Home | On the Shelf | Lenz DCC | Other Items | To Order | TLA Portal